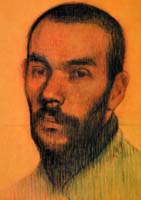 Alexandre Schervashidze

Шервашидзе (Чачба), Александр Константинович

Graphic artist,

scenographer

Born Feodosia, 24 December 1867

Died Monte-Carlo, 17 August 1968
Schervashidze (Chachba), an Abkhazian prince, was born in Feodosia in 1867 and received his artistic education in Kiev and Moscow. In 1893 he went to Paris for the first time to study at the Cormon Academy. In 1907 he was appointed stage designer to the Imperial theatres in St. Petersburg. He became a member of the group Mir Iskusstva. In this period he got acquainted with Diaghilev and the Russian Ballets. After the October Revolution, acutely aware of being an aristocrat in a revolutionary era, Schervashidze fled St. Petersburg in 1918 for his homeland Abkhazia. Together with his wife Natalia Butkovskaia, an actress from the Imperial Old Theatre, he worked in Sukhumi, the capital of Abkhazia, again as a theatrical designer and as headmaster of a school of artistic education for children. In 1919 his school was closed and he was forced to leave the country. He moved on to Georgia and to Batum but when he received an invitation from Diaghilev to work for the Russian Ballet he left for London via the Crimea and from there to Paris where he settled in 1920. Because of the outbreak of the Second World War Schervashidze moved to Monte-Carlo in 1940 where he died in 1968.