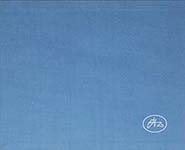 Iliazd
Un de la brigade
One of the brigade
Paris: Elie Zdanevich, 1983
246 x 306 mm. pages nn.
Edition: 25. Copy nr. 15/25.
Brigadnyi (One of the brigade), written by Iliazd (Ilia Zdanevich,
1894-1975), was inspired by the Spanish civil war. In 1982 Hélène, the widow of Iliazd, had the poem translated into French by Guillevic and posthumously published with 6 copper engravings in blue and black by Staritsky. The original handwritten Russian text in blue ink by Iliazd was reproduced at the end of the book. It was the last book published with an original text by Iliazd and it was also the last book that Staritsky designed. In this book, wrapped in parchment, the Russian origins of both the author and the artist were visible
in the strong connection between art and poetry. Staritsky
showed for the last time her mastery in fusing text and image into an indivisible unity, showed also for the last time her innovative way of illustrating. refusing to let the content reign over the image.
References:
Penaranda 1992, nr.55
Eindhoven 2016, pp. 79-79