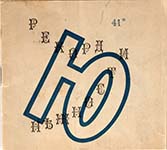 Igor Terentev
Rekord nezhnosti
A record of tenderness
Tiflis: 41°, 1919
140 x 152 mm. 24 pages
Edition: unknown.
This book is a biography of Ilya Zdanevich (Iliazd) written by Teretev and illustrated by his brother Kirill. For this book Kirill composed ten small pictures framed in squares and printed in blue. The cover is designed by Iliazd. In effect this is a book about a poet written by a poet and illustrated with small compositions that contain the letters of the alphabet. The art of typesetting, the punctuation of the printed text and the letters within the image are all elements of poetry and visual art that have grown together in this small book. The cover is dominated by the letter Iu that functions as a base for the flying, bee-like, lettters of Record and Tenderness.
References:
Getty 1997, no. 769
Paris 1978, p. 10-21
London Christies 1990, Lot 345
San Francisco 1991, no. 49
Borovkov 1995, no. 53
Laventrev 2000, p.35
Vzorval 2010, no. 63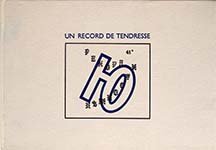 2304
Igor Terentev
Un record de tendresse
A record of tenderness
Paris: Clémence Hiver, 1990
115 x 165 mm. 96 pages
Edition: unknown.
Reprint of the 1919 edition with a translation into French