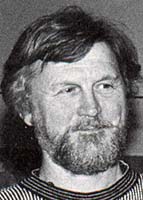 Georgii Yudin
Юдин, Георгий Николаевич
Graphic artist, theatre artist.
Born Kaakhka (Turkmenistan), 27 September 1943
Upon completing his study as a railway engineer, Iudin had to serve in the army, where he began to draw. From 1960 to 1965 he studied at the Moscow Polygraphic Institute under A. GFoncharov and V. Liachov. he started writing and illustrating children's books for his two daughters. He lives and works in Moscow mainly as an illustrator of historical and religious children's books.