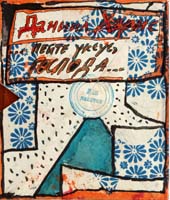 Daniil Kharms
Peite uksus, gospoda
Drink vinegar, gentlemen...
Pskov: Stroilo, 1995
172 x 146 mm. 24 pages
Unique copy.
The pages were designed an printed in 1989. The bookbinding from 1995 is a mosaic from brown leather pieces glued together and a painted relief. The book is contained in cardboard slipcase with collages. Signed by the artist and numbered (91) insignia on the back cover.
References:
New York 1999, nr. 13
Hamburg 2017, no. 162