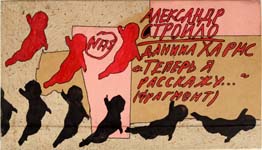 Daniil Kharms
Teper ia rasskazhu...
Now I will tell you...
Pskov: Stroilo, 1993
125 x 215 mm. 24 pages
Unique copy.
De text was executed by Stroilo in 1991. The design and book binding was done in 1993. The box shows collages and handwriting. The box is numbered (175) on the front side.
References:
New York 1999, nr. 34
Hamburg 2017, no. 157