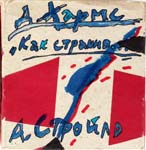 Daniil Kharms
Kak stranno...
How strange...
Pskov: Stroilo, 1993
100 x 96 mm. 25 pages
Unique copy.
The book contains 25 cut and pasted covers of Belomorkanal cigarette packages that can be folded out. The cover is of soft leather with an additional leather star cut from a package. The box is handpainted and numbered (2) on the back side.
References:
Hamburg 2017, no. 158