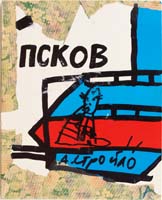 Aleksandr Stroilo
Pskov 5 graviur 1981 g.
Pskov, 5 etching from 1981
Pskov: Stroilo, 1993
176 x 145 mm. 6 pages
Edition: 16. Copy no. 3/10
Book with 5 full page signed and numbered linogravures executed in 1981. The cover is madeof a goatskin binding, colored with pigment and heightened in water colors. The cardboard slipcase is decorated with a colage. One of 10 signed, numbered and dated copies, of a total edition of 16; this is number 3/10 (5) of ten copies, all in different bindings.
References:
New York 1999, nr. 4