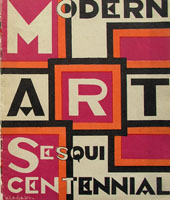 Modern Art at the sesqui-centennial exhibition.
New York, Societe Anonyme 1926
267 x 222 mm. 24 pages
Edition: unknown.
Alajalov, who designed the cover,emigrated In January 1923 to New York, where quickly got acquainted with the circle of Russian artists as David Burliuk, through whom he met with Christian Brinton and Katherine Dreier. In the Spring of 1926 he collaborated with Brinton and Dreier on the publication of this brochure which accompanied the German and Russian sections of the Sesqui-centennial exhibition in Philadelphia June 1-December 1, 1926. Brinton was special deputy of foreign art of the exhibition. Dreier selected the German section. The brochure deals with only part of the Russian section, with works by Archipenko, Bobritsky, Burliuk, Chagall, Cickovsky, Kandinsky, Malevich and Vasilief, all of which were shown in gallery 21 of the museum (26 paintings and 24 sculptures), next door from the German section in gallery 22. In gallery 20 a further 40 paintings and 21 sculptures by Russian artists, considered not equally modern, were shown. The design of the front cover is reminiscent of Rodchenko's design for the Paris 1925 anthology.
Reference: J. Flanner, Conversation Pieces. New York, 1942, pp.5-7.