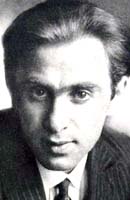 Issachar-ber Ryback

Рыбак Иссахар-Бер

Painter, graphic artist

Born Elizavetgrad, 2 February 1897

Died Paris, 21 December 1935
Issachar Ber Ryback went 1911 to study at the Faculty of Painting of the Kiev School of Arts, from which he graduated in 1916. In this period Ryback joined the faculty's non-formal group of young artists seeking for a modern Jewish culture. In 1913-1914 he attended classes in the private studio of avant-garde artist Alexandra Exter. In 1916 he participated, with El Lissitzky amongst others, in an expedition through the surrounding Ukrainian villages to study Jewish folk art and architecture. Together with Joseph Tchaikov and El Lissitzky, Ryback was one of the founders of its art section of the Kultur Lige, organized in June 1918. In 1919 Ryback moved from Kiev to Moscow. There, during two difficult years suffering from shortages of painterly materials as well as food because of the civil war, he mainly occupied himself as a scenic designer. In 1923 Ryback travelled to Berlin to open a one man show held at the Twardy gallery. In Berlin Ryback mainly worked as a graphic artist and within two years he designed covers and illustrations for nine books and portfolios. Ryback settled in Paris in 1926. From February until May 1935 he travelled through England. After this trip his health deteriorated and during the preparations of a Paris exhibition he was in hospital. Soon after the exhibition closed the artist died.