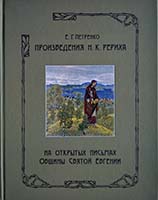 E. Petrenko
Произведения Н. Рериха на открытых писмах Общины Святой Евгении.
Work by N. Roerich on the postcards
from the St. Eugenia Society
Odessa: Astroprint, 2009
268 x 211 mm. 40 pages
Edition: 500.
The St. Eugenia Society published postcards during the First World War to collect money for medical help to the wounded soldiers.