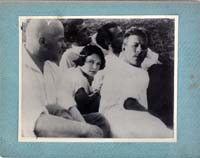 Aleksandr Rodchenko
Луэлла Краснощекова
Luella Krasnoshchekova
Moscow: Mayakovskii Museum, c. 1950
118 x 148 mm. Photo
Edition: unknown.
Luella Krasnoshchekova in Pushkin with Shklovsky, Mayakovsky, Aseev and Boris Kushner. Photo by Alexander Rodchenko 1924
.
Official copy of the Mayakovsky Museum 1950s
Luella Alexandrovna Krasnoshchekova (1910 - 2002). Her father, Alexander Mikhailovich Krasnoshchekov, was married and had two children, Luella and Eugene, who were born in Chicago in 1910 and 1914, respectively. Luella was named after a park in New Jersey (Llewelyn Park), where her parents loved to walk. The family lived together for the first years in Russia, but in December 1922, his wife, a Polish Jew named Gertrude, returned with her son to the United States, while Luella voluntarily stayed with her father in Moscow. When Krasnoshchekov was imprisoned in 1923, he was cared for by his mistress Lilya Brik. Caring for him extended to his fourteen-year-old daughter, who moved to a dacha in Pushkino. All her life she idolized Lilya. Luella, married and educated in 1929, becoming a zoologist. She died in St. Petersburg in 2002, at the age of ninety-two. Alexander Mikhailovich Krasnoshchekov (1880 - November 26, 1937, shot) - Soviet statesman and party leader, participant in the Civil War in the Far East. Prime Minister and Minister of Foreign Affairs of the Far Eastern Republic. At the end of 1922, he had a long and serious affair with Lilya Brik. This romance almost led to the breakdown of Lily Brik's relationship with Mayakovsky. The size of the original is 9
0
x 12
0
m
m.