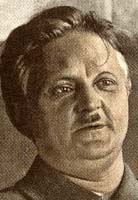 Dmitrii Moor
Моор, Дмитрий Стахиевич
Graphic artist.
Born Novocherkassk (Rostov-on-Don), 3 November 1883
Died Moscow, 24 October 1946
Moor, born as Dmitrii Stakhievich Orlov, studied 1910 in the studio of P. Kelin. 1910-1917 he worked for the journal Budilnik and from 1919 for Izvestia. Since 1922 he was one of the founders of the saterical journal Krokodil. 1922-1930 he taught at the Vchutemas/Vchutein in Moscow. Famous for his political posters.