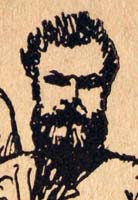 Igor Jakimow
Якимов, Игорь В.
Graphic artist, sculptor
Born Polotebnoe (Riazan), 20 March 1885
Died Heidelberg, 25 March 1962
Jakimow studied 1906 at the Academy Colarossi in Paris. He studied later also under Matisse and Bourdelle. He married the artist Annemarie Kruse, daughter of the German sculptor Max Kruse and stepdaughter of Käthe Kruse. After a stay in Russia 1914-1918 he emigrated to Berlin were he studied (around 1923) at the Kunstgewerbeschule. He later settled in Heidelberg.