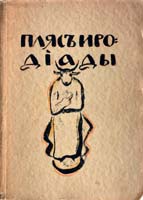 Aleksei Remizov
Пляс Иродиады
Herodiade's dance
Berlin: Trirema Verlag, 1922
210 x 150 mm. 62 pages.
Edition: 500. Copy XXX/50
The publisher of this book, the architect (a.o. of the Russian Church in Brussels) and artist Nikolai Iszelenov came to Berlin via Finland in 1921. Together with his wife, the artist Maria Lagorio, he founded Trirema publishers. Their motive was to publish lithographed artist-books and portfolio's in limited editions (100-500 copies). However, there is only one portfolio published by Trirema that is illustrated by another, the artist Sinezubov. Trirema publications are few, but all have the same high quality. Herodiade's dance is a very good example of what Trirema stood for. In the best futurist tradition both text and illustrations are lithographed. In this way the unity of text and image is strengthened. There is but little interaction between the two however and artist and author are not integrated. The pages show smaller and bigger illustration next to text without integration. The appearance of the book is vivid and expressive fitting the sparkling content of Remizov's tale. It is one of the most imaginative productions of a Remizov book made in Berlin. Trirema publishers was a short lived enterprise (1922-1924). When the crises in Germany grew worse and the German mark devaluated rapidly, the enterprise ceased to exist and the couple moved to Paris.
References:
Rovaniemi 2001, p. 103
Brussels 2008, p. 32