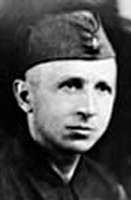 Andrei Igumnov
Игумнов, Андрей Иванович
Painter, monumentalist, graphic artist,
Born Starii Oskol, 6 August 1903
Died Moscow, 5 July 1975
Igumnov studied from 1922 to 1930 at the Moscow Vkhutemas under P. Miturich and D. Shterenberg. In 1929 he became a member of the art group OST. In the beginning of 1931 together with three other artists, he established the artist's group TIGI (Tiagunovyi, Igumnov, Gurevich, Ivanovskii). These four artists visited regions of industrial development (Magnetogorsk, Kuznetskstroi) and collective farms in the years 1932 a 1933 and depicted the achievements. In the 1950 he designed monumantal paintings.