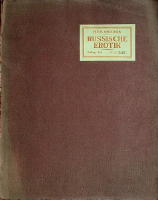 Boris Grigoriev
Russische Erotik
Russian Erotica
Munich: O.C. Recht, 1921
400 x 320 mm. 12 pages.
Edition: 300. Copy nr. 292
The German critics condemned Rusland for being too Parisian. Even more Parisian (in spite of its title) is this portfolio of twelve lithographs. The lithographs were executed after drawings Grigoriev made in the Summer of 1920 in the city and along the beaches of the lakes near Berlin. He drew letters in the form of woman's legs for this portfolio to echo its content, comparable to the wooden-stick letters of Raseia (see nr. 31), women's legs for this portfolio. The lithographs show images ranging from erotic to slightly sadistic as in the cabaret scenes Grigoriev had made since 1913. Similar drawings and painting had been published in Intimité in 1918. Russian Erotics was published in Munich, where Grigoriev had connections through the publisher of Wieland. Nowadays these drawings might seem commonplace, but at the time it was daring business to publish such erotic material. Soon after publication the edition was seized by the authorities for being too offensive, which is why the publisher is not mentioned in the portfolio. Grigoriev had nothing to fear as he had been living in Paris since Autumn of 1920. In 1924 the six least offensive drawings were used to illustrate a collection of tales called The Muscovite Eros.
References:
Stommels 1993, p. 52
Pskov 2001, p.37
Brussel 2005, p. 123
Galeeva 2007, p. 242-245