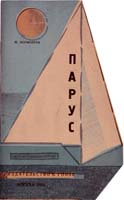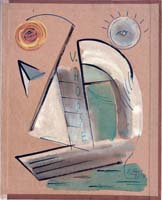 Mikhail Lermontov
Парус
The sail
Moscow: Goppe, 2014
288 x 170 mm. 12 pages
Edition: 10. Copy nr. 7/10.
The model of the book
Moscow: Goppe, 2014
365 x 300 mm. 13 sheets
Unique copy
Mikhail Lermontov (1814-1841) wrote 'The Sail' in 1832, the year he was forced to leave Moscow. Upon arrival to Saint Petersburg he went directly to the sea shore and produced the outline for this poem while walking along the shore of the Gulf of Finland. This poem is a good example of the use of symbolic landscape poetry to represent a moment of deep philosophical contemplation: the tranquil view of the sail gliding in the blue of the sea is replaced by the picture of an approaching storm. It is probably Lermontov's most famous poem. Goppe designed the book in the form of a sail and illustrated the text with colour lithographs.
References:
2016, Eindhoven VAM, nr. 124