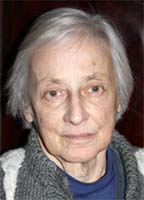 Nika Golts
Гольц, Ника Георгиевна
Graphic artist.
Born Moscow, 10 March 1925.
Died Moscow, 12 November 2012
Nika Golts was the daughter of the architect, scenographer and graphic artist Georgii Pavlovich Golts. From 1943 to 1950, she studied at the Moscow Surikov School of Art under under N. Chernyshov. She started working as a monumentalist designing murals such as in the children's music theatre of Natalia Sats in Moscow, including two panels designed by her father. From 1953 onwards she worked as a graphic artist and illustrated books for the publishing houses Detskaia literatura, Khudozhnik, and others. She is known for her illustrations of fairy tales and fantasy stories.