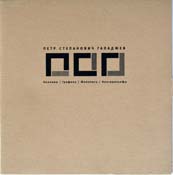 Aleksandr Borovskii
Петр Галаджев. I. Коллажи.
II контррельефы и живопись, III графика
Petr Galadzhev
I Collages, II contra reliefs and paintings,
III graphics
Moscow: MMAM, 2003
225 x 220 mm. pages nn.
Edition: unknown.
Catalogue to a solo exhibition in Moscow in the form of a fold out book with three separate booklets.