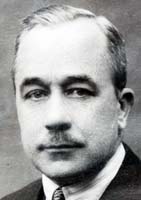 Serge Ferat
Ястребцов, Сергей Николаевич
Painter, graphic artist.
Born Moscow, 28 May 1879
Died Paris, 13 October 1958
Férat, born Sergei Nikolaevich Yastrebtsov, studied law at the Kiev University and art at the Kiev Art School. Around 1900 he and his niece the Baronne d'Oettingen left for a grand Tour across Europe. He settled in paris and started studying at the Academie Julian. In 1903 he met with Apollinaire en both became fast friends. In 1914 he met his future wife Irène Lagut. By that time he was fully involved in cubist painting. In the 1920s he became a stage designer.