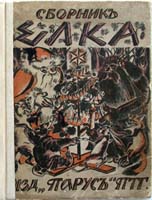 Maksim Gorkii a.o.
Елка
The Christmas Tree
Petrograd: Parus, s.a. [1918]
291 x 223 mm. 56 pages
Edition: unknown.
The very first children's book to be printed under Soviet rule. A collection of tales, verses and puns published in Petrograd in 1918 but put together before the October revolution. Cover and title page by V. Lebedev; frontispiece by A. Benois; iIllustrations by Lebedev, Annenkov, Zamirailo, Khodasevich, Radakov, Popov, Chekhonin, Repin, Dobujinsky and Pougny.
References:
Petrov 1972, p. 288
Berlin 1993, p. 40
Leveque 1997, p. 11
Moscow 1997, no. 62
Steiner 1999, pp. 51-52
Blinov 2005, p. 78
Semenikhin 2009, pp. 246-247