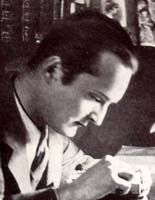 Valentin Le Campion
Битт, Валентин Иванович
Graphic artist
Born Moscow, 26 September 1903.
Died Plessis-Robinson (Paris), 25 October 1952
Valentin Le Campion, born as Valentin Bitt, was the son of Olga Fedorovna Gedika, solist in the Zimin Opera. Le Campion studied 1920-1923 at the Proletkult school under Rerberg and Shemiakin. In 1923 -1924 he studied at the graphical faculty of VkhUTEMAS onder Pavlinov and Favorskii and in 1924-1927 he worked in his holidays under Kravchenko. He worked with the Kamernii Theatre and went with the group in 1926 to Germany and Austria. In January 1927 he went to Paris and was a teacher in painting and Xylography. From 1931 on he used the name of his grandmother: Le Campion.