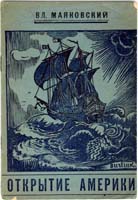 Vladimir Mayakovskii
Открытие Америки
Discovering America
New York: New World Press, [1925]
151 x 104 mm.12 pages
Edition: unknown.
Two booklets were published during Maiakovskii's visit to the USA in 1925. The poet had applied for an American visa in 1923, but to no avail. Instead he left France for Mexico, where he finally got his visa. He entered the USA on July 27, travelling immediately to New York City. He not only wanted to see Brooklyn Bridge, the acclaimed wonder of modern time, but also to meet with his patron and friend, The father of Russian Futurism David Burliuk. Burliuk organized a lecture tour to several US towns, which got him considerable press attention. Burliuk designed and published two of Maiakovskiiís poems. The discovery of America was written by Maiakovskii on his voyage to the U.S.A. It is a first edition that compares the poetís discovery, like Columbusí, of America.
References:
Hellyer 2006, nr. 347
Woroszulski 1970, p. 378
Stanford 1988, p. 49
New York 1989, p. 27
Bologna 1993, p. 135
Moma 2002, nr. 582
Brussels 2005, nr. 106
Khachaturov 2009, p. 41