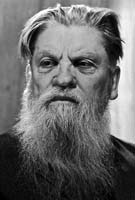 Petr Buchkin
Бучкин, Петр Дмитриевич
Painter, graphic artist.
Born Sofronova (Tver), 3 February 1886
Died Leningrad, 21 June 1965
Buchkin studied 1899-1904 at the Uglich Icon school and 1904-1912 at the Academy in St Petersburg under Mate. Since 1912 he has participated in Art Exhibitions. Member of LCRAU since 1932. Painted a portraits, landscapes, genre and historical subjects, worked in Art illustration. Painted from life of Vladimir Lenin, Fedor Shalapin. Honoured Art Worker of Russian Federation (1956). Professor of painting in Ilya Repin Institute (1937-1940) and Vera Mukhina Institute (1952-1965).