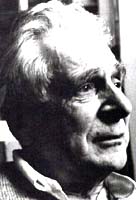 Alexandre Alexeieff

Алексеев, Александр Алексеевич

Graphic artist, animation film designer, painter

Born Kazan, 18 April 1901

Died Paris, 09 August 1982
Alexeieff spent his youth partly in Istanbul. He studied in St. Petersburg until 1917. He emigrated to Paris in 1921. He studied under Sudeikin and worked for the designer G. Pituv where he met Aleksandra Grinevskaia. They married in 1923. In 1931 he developed, together with Claire Parker the 'gravure animée' 1940-1945 he stayed in the US and from 1945 in Paris. In 1947-1958 he designed his 'animation totalisée'.